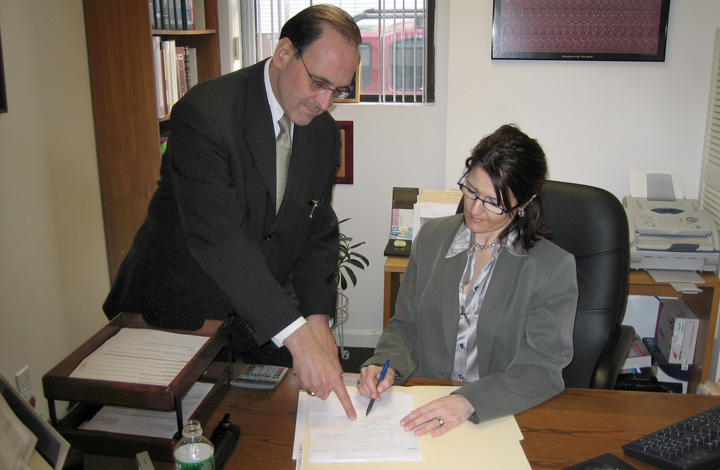 What Benefits Are Available to Me?
The Worker's Compensation Laws of Massachusetts are regulated and/or enforced by the Department of Industrial Accidents (DIA). The main office to the DIA is located at 1 Congress Street #100, Boston, MA 02114.
As a result of the 1991 changes in the Worker's Compensation Law, the injured worker my be entitled to the following benefits:


Your Worker's Compensation Rights and Benefits.
This section is intended to inform you about your rights as an injured worker. It will answer many of the most common questions concerning worker's compensation claims. Also it will provide you with explanations and procedures to follow.
What is a Worker's Compensation Claim?
What benefits are available?
How to Obtain benefits
Duties of employer & insurance company
Overview of the Worker's Compensation Claim.
FAQ's
1. Total Disability Benefits
When an injured worker is unable to do any job because of his/her on the job injury, the worker is entitled to receive 60% of his average weekly wage including 60% of wages lost from a job not connected with the job at which the worker was hurt, up to a maximum amount set by the Commonwealth, which is $665.55 in 1998, but is changed annually. This benefit may continue for a period of three years.
2. Partial Disability Benefits
When an injured worker is able to do some work, but unable to earn his/her full wages, the worker is entitled to partial disability benefits. The injured worker may receive 60% of the wages he/she is unable to earn or 60% of the wages lost due to the injury. This benefit of partial disability may continue for a period of approximately five years, but total and partial disability benefits combined may not exeed seven years.
3. Total and Permanent Disability
When an injured worker has been unable to perform any kind of job for an extended period of time and a doctor supports this condition, then the worker may be entitled to total and permanent disabilit benefits. This is simply the payment of 60% of his/her average weekly wages for life. This benefit also includes cost of living adjustments.
This benefit should be applied for within five years of injury date. A worker in this category should also consider applying for Social Security Disability and/or Disability Retireent. In most cases a worker who is expected to be unable to work for a period in excess of oneyear should consider applying for Social Security Disability and/or Disability Retirement. (Consult your attorney)
4. Loss of Function/Disfigurement benefits
The injured worker is entitled to payments for scarring of the face, arms or neck and permanent loss of use of arms, legs, and/or other parts of the body. This includes injuries which result in use of cane, brace or wheelchair, and/or a permanent limp.
5. Medical Benefits
The Massachusetts Worker's Compensation law provides for the payment of medical bills and transportation to and from the treating doctors and /or hospitals.
6. Death Benefits
In the event of the death of a worker, the surviving spouse and/or dependent children are entitled to the benefits the deceased worker would have received had he/she survived (e.g. 60% of the average weekly wage). This is a complex situation and you should consult your attorney.
7. Vocation Training Benefits
An injured worker who cannot return to his/her prior job is entitled to have the cost of retraining and/or schooling paid for by the employer and/or the worker's compensation insurance company.
8. Double Compensation and Penalties
In an attempt to encourage safe work practices and to provide a safe work place, the Worker's Compensation Law provides for the payment of Double Compensation Benefits when a finding is made that the employer acted in serious and willful disregard of safety. Other penalties may also be assessed when injured workers are not treated fairly by insurance companies and/or employers.
How to Obtain Benefits
1. Report your injury to your boss.
2. Call your attorney and visit him/her.
3. See a doctor or go to a hospital.
4. Keep a record of everything that happened.
This is a recommended procedure. The actions of your employer and the insurance company must be expected to be adversarial and/or motivated by their desire to protect themselves. You must protect yourself also.
Within fourteen days of the injury you should begin receiving worker's compensation payments. In he event this does not occur, you should see your attorney.
Duties of the Employer/Insurance Company
It is the principle law in Massachusetts, that employers deal fairly and In good faith with employees. A reported on-the-job injury which results in five days absence from work, requires your employer/insurance company to do the following:
1. File a first report of injury and provide the injured employee with a copy.
2. Within fourteen days of the date of the injury, make payment to the injured worker, or in writing explain why payment will not be made.
In the event this is not done, penalties may be due to you, paid by your employer or insurance company. In some cases your employer and/or the insurance company may pay "without prejudice for 180 days." In that case a good reason must be shown to stop your payments within this time. A seven-day notice must be sent to you by certified mail explaining when and why payments will stop. An action of this nature, which is found to be without basis and/or done improperly, will result in penalties being paid to the worker.
Overview of the Workers Compensation Case
This is intended to be only a general example of a worker's compensation case and will vary from case to case.
Employer's Position
The employer may view the worker who reports an injury as a troublemaker causing problems that will result in losses to the employer. The insurance company that will make payments to the injured worker may encourage this view. Accordingly, the injured worker must exercise caution in answering questions and/or in giving statements. Consultation with an attorney is recommended.
When your claim is contested or denied, detectives may be hired to watch you. You should give the insurance company no chance to help their case. Remember, they may be watching you.
Employee's Claim
In order to force your employer or the insurance company to pay you, a claim must be filed with the Division of Industrial Accidents.
This procedure, moving form conciliation to conference is time-consuming. However in most cases after a 4-5 month delay, the claim will reach a D.I.A. Judge. This person holds the power to order payments, penalties and attorney's fees. The employer and/or employee may appeal this decision. However, once an order to pay is made, the employer/insurance company must pay you.
During the time you are receiving payments the insurance company will do everything possible to have the payments stopped. This includes examinations by insurance doctors and the se of detectives. However, the insurance company must act fairly and in good faith.
During the time you are receiving weekly payments. Medical bills, and other benefits due you including transportation to doctors and hospitals, must also be paid to you.
While payments are being made to the injured worker the insurance company is interested in settlement of the case. However, in most cases, when a case is settled the employer is not interested in reemployment. While this is contrary to law, it is a practical fact. Therefore, in most cases the injured worker may settle his case, then obtain a new job or obtain social security disability and/or retirement.
Social Security should be applied for prior to settlement.
It must be realized that temporary total disability payments will continue for three years and thereafter a new claim must be filed.
Under the "New Law" insurance companies are always obliged to pay medical bills.
However, the insurance company in most cases will fight to not pay medical bills after the case is settled. The injured worker must keep this in mind.